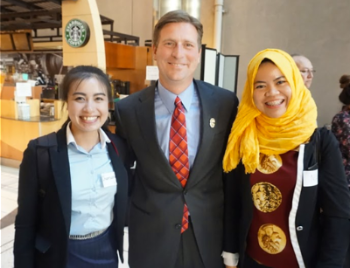 Need
* Access to an organization where participants of their YSEALI Professional Fellows Program could work for a month.
* A guarantee that their Fellows will get exposure to American businesses and government agencies.
Plan of Action
Contact Global Chamber® for a collaboration in this program and plan on how two of the Fellows would spend a month working at Global Chamber®.
Results
Chansamai Phommachan (Laos)(Left) and Nia Febriyanti (Indonesia) worked for a month at Global Chamber® where they were able to learn about US business operations and make valuable connections like Kevin Hull (BMO Harris) and Mayor Stanton (City of Phoenix).