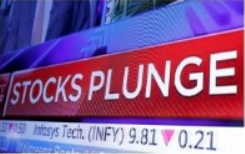 Last week the technology-laden NASDAQ market dropped over 10% from its prior week high, hitting 6906 down from a high of 7728.
Insiders and institutions have been selling out of technology positions, with retail picking up (as the economy enters the holiday season).
Borrowing costs have risen sharply as the Federal Reserve has remained steadfast in their resolve to normalizing rates, at whatever level that may be. As rising rates are factored into longer-term discounting mechanisms, Net Present Value (NPV) calculations will have to adjust or "discount" at much higher levels given the creep up in bond yields. This can kick assets a few notches down in terms of their fair value. Companies will have to pay more as bonds roll over.
Equity holders feel this pain first, followed by the bond holders, so stay attuned to your portfolios.
Mark Lohsen - Global Chamber Charlotte