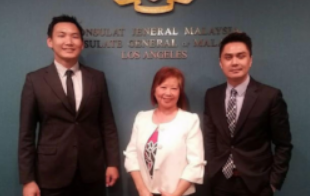 Thank you members of Global Chamber® in New York City!
Our Global Chamber® team works in 525 metros, and we've seen and heard it all from members and non-members. We're ALL busy... and our members realize that an investment in time with the global tribe increases success. 'Too busy to be more productive' isn't a good strategy. Thank you members for being amazing!
Like member Winnie Kho Kaplan (below) at the Malaysian Consulate in LA last month. Winnie is a consummate connector... and it turns out that she and the new Consul General are from the same town in Malaysia... and so they have already made a plan for working together that I'm sure will benefit other members. Thank you, Winnie!
And thank you MIDA - Malaysian Investment Development Agency, for your membership and collaboration. There is an active MIDA office in New York City... and we'll be happy to connect you to the team.
Make your growth journey a little easier with 'warm connections' in every industry, in every location and at every level of organizations that you should be working with. Also check out our multi-metro 'globinars' several times per month.